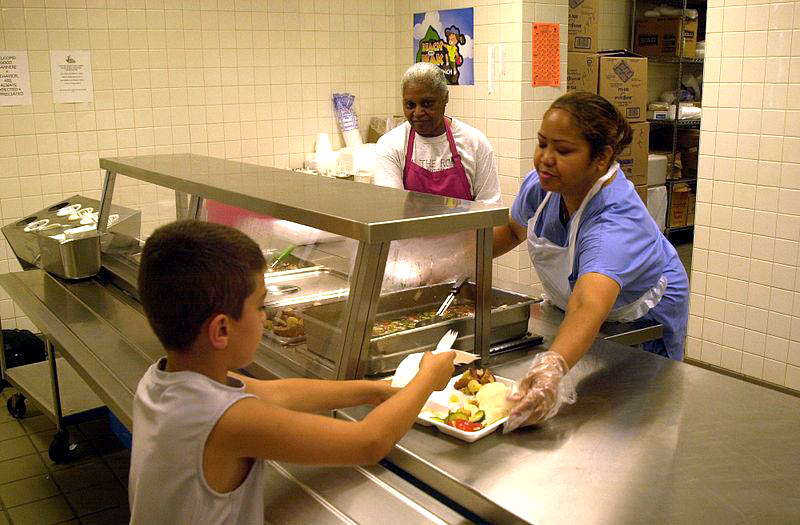 Activities & Events
As a project team, we regularly engage with schools, communities, charities and policymakers. On this page, we share details of our activities and events.
Past Events
17-19th November 2023- History of Education Society Conference, INOX, University of Sheffield
We presented on the SMS project in a panel session 'School Food Histories: Emotions, Experience and the Sensory' on Saturday 18th November 2023, 1-2:30pm.
Strand 1: The School Meals Service: Legislative and Policy Histories, Prof Gary McCulloch and Dr Laura Newman (UCL)
Strand 2: The School Meals Service: Oral Histories, Dr Heather Ellis and Dr Isabelle Carter (University of Sheffield)
Strand 3: The School Meals Service: What is the Role of Food in Schools?, Dr Gurpinder Lalli and Dr Ellen Bishop (University of Wolverhampton)
29th November 2023 1-2pm UK time- University of Birmingham's Geographies of Children, Young People and Education group, Invited Speaker: Dr Ellen Bishop
School Meals Service Project- What is the Role of Food in Schools?
The School Meals Service (SMS) project, funded by the ESRC, aims to consider the aims, achievements and limitations of the SMS since its inception in 1906 and what can be learned from past and current lived experiences of the SMS for future provision. Strand 3 of the project, the focus of this presentation, specifically considers the current day experiences and provision of school meals and the place of food in schools. Data collection involved four partner schools in Bradford, London, Cardiff and Glasgow, consisting of ethnographic observations in school gardens, dining spaces and classrooms and 'hanging out' sessions designed to capture the informal conversations and social interactions of participants. This was in addition to conducting interviews with teachers, catering staff, pupils and parents to learn more about the school and place of food within it. This presentation will discuss the methodological approach to the research and some initial findings from the fieldwork conducted in strand 3 on the role of food in schools and the spatialities of school meals. 
2nd November 2023 5:30pm UK time- UCL ICHRE Seminar: Science, taste, and the development of school meals in World War Two Britain, Dr Laura Newman
Historians of the British school meals service (SMS) have spent much time probing the politicisation of the nutritional sciences at the Board of Education (BoE). They point to the selective uptake of experimental knowledge on vitamins and malnutrition by the BoE as evidence of institutional inertia, which in turn limited the effectiveness of the SMS in the fight against childhood hunger. This paper instead centres an underexplored scientific tool – that of taste – and the role it played in the development of school meals at both the BoE and beyond. It poses questions such as: how were the tastes of children both accommodated and marginalised by nutritional experts invested in the expansion of the SMS? What different kinds of methodologies were in place to explore the sensory preferences and needs of children during a much larger nationwide experiment in communal eating? By answering these and other questions, this paper proposes the need for multi-sensory histories of childhood feeding that recognise the complex iterations of children's agency within different geographies of food and feeding.
Saturday 21st October 2023 2pm: ESRC Festival of Social Science 'School Food Memories', Burngreave Vestry Hall, 2 Burngreave Rd, Sheffield, S3 9DD
Spam fritters, corned beef hash, jam sponge with pink custard… what are your memories of school meals? The School Meals Project explores the impact of school meals in Britain, from 1906-present day. This event at Burngreave Vestry Hall gave attendees an opportunity to find out about the history of school meals, share their memories and even taste some classic school dinner foods!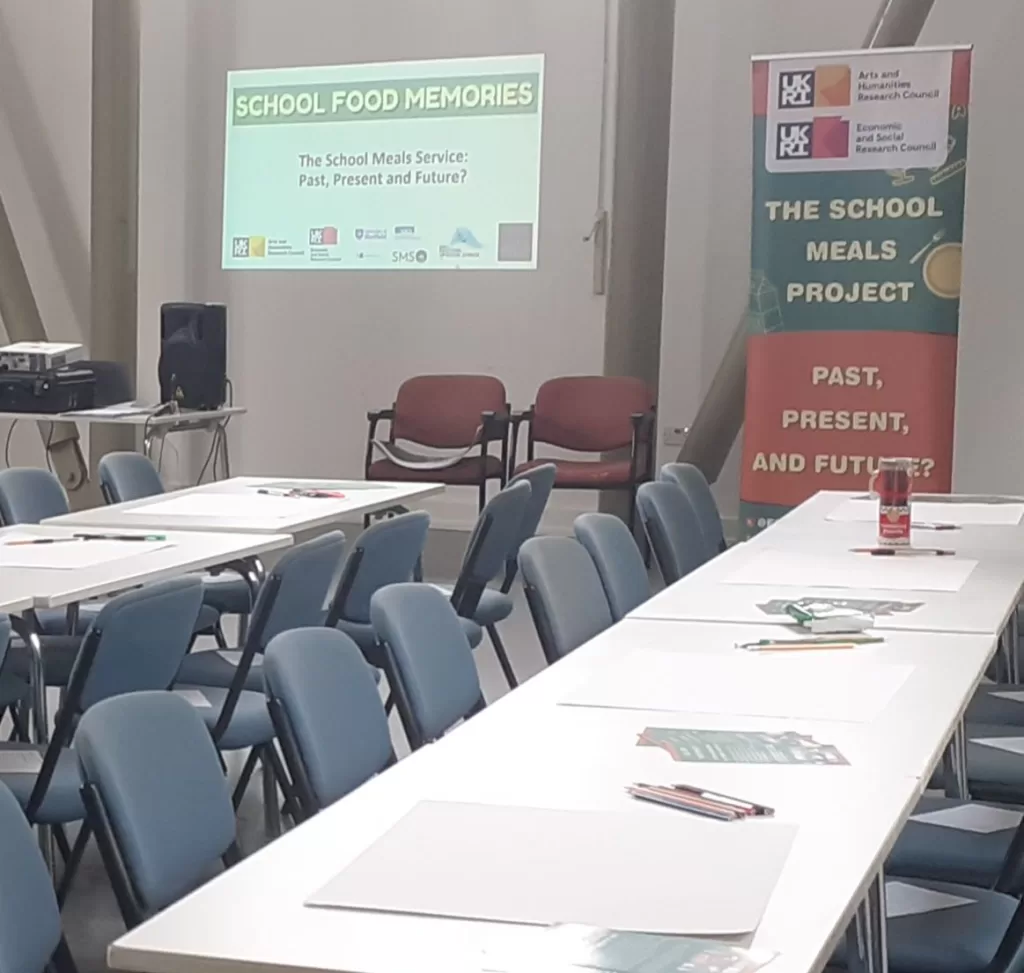 Saturday 14th October 2023, BBC Radio Sheffield
Listen to Dr Heather Ellis and Dr Isabelle Carter speaking about the SMS project on BBC Radio Sheffield. Listen from 2:09:25- 2:12:34, 2:15:18- 2:28:56 (Must be signed into BBC account to listen, only available until 12/11/23)
https://www.bbc.co.uk/sounds/play/p0ggq9g3
Saturday 16th September 2023, 1-4pm, Zest Centre, Sheffield: 'Memories of Childhood Food' Event
The School Meals team worked with the Zest Centre, Welcoming Cultures, and Walkley Historians to create an event that celebrated and recorded Sheffield's rich community heritage through food. Activities included sharing memories of school meals, contributing to a community recipe book, and mapping different food cultures across the world and arts and crafts.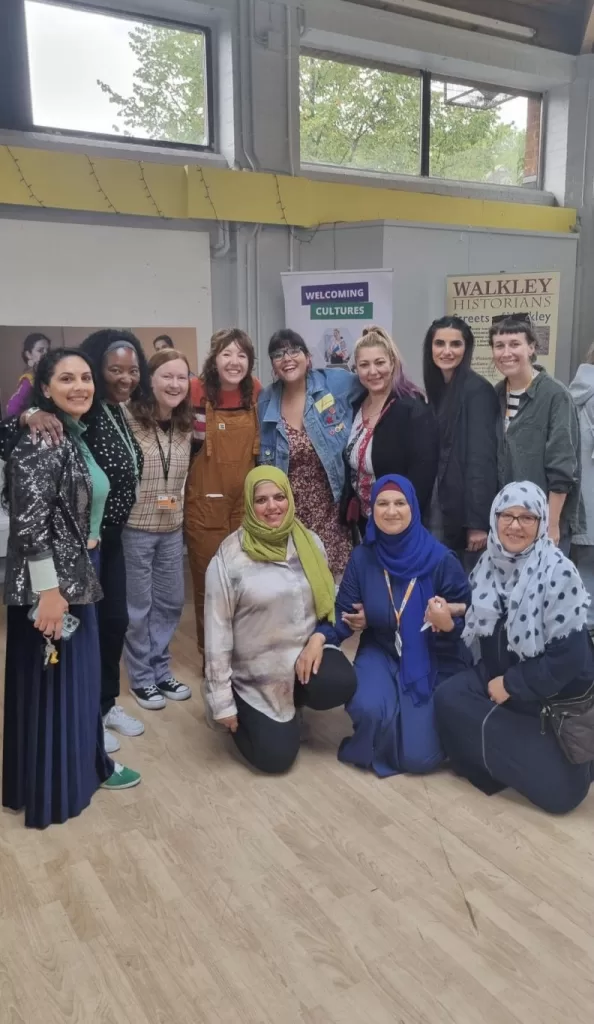 17th July 2023 – British Nutrition Foundation and Magic Breakfast
Invited speaker: Dr Gurpinder Singh Lalli discussed issues such as:
The role of breakfast in improving dietary quality and providing a nutritional safety net for children and young people
Breakfast provision in schools as part of the whole school food approach including the potential impact for children experiencing food insecurity
Ways to make breakfast clubs more inclusive
Measuring impact of school breakfast programmes on health, behaviour and learning
29-30 June 2023 – BESA Conference
Keynote Speaker: Prof Gary McCulloch 'The School Meals Service in a Changing Society: Aims, Achievements and Limitations'.
https://educationstudies.org.uk/news-item/besa-2023-conference-keynote-speakers/
28 May 2023 – Child Food Poverty and Whole-Foodchain Organisation
FAWN, Dr Gurpinder Singh Lalli, Roundtable discussion on Children, Families and Food Security